Awww, look, me and my puppy dog: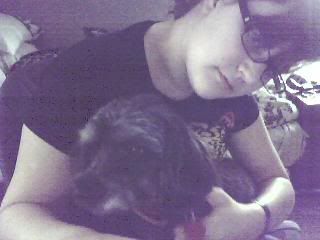 Yes, I am trying my hardest to post much more often than I had been. Even if it is stupid webcam pictures of me and my dog. haha.

In other awesome (I suppose)news. It is March Break. I still have to work.. some 26-hours between now and Sunday and than I should be getting Monday, Tuesday, and Wednesday off, provided that work didn't find out it is March Break and schedule me on those days. I really hope not, 3 days off would be nice. I've gotten to the point where I can't remember the last time I had a day off of school/work. Probably the Wednesday before placement started, which was 2 months ago now.

I don't mind being busy. In fact, I like it. But having one day off every once in a while is wonderful wonderful thing and I miss it!